Established in 2000, Wrington Bowling Club is an outdoor, flat green, bowls club in the heart of the village, enjoying the benefit of the adjacent sports and social club and recreation grounds.
We are friendly club with a strong male and female membership and a growing interest amongst junior players. Benefiting from an all-weather rink, our members are able to play throughout the year.
The club play matches against other local clubs, which are either friendly, league or cup fixtures for ladies, men's and mixed teams.
Members are also active in county and district matches, and we hold internal club competitions during the season. Thanks to our all-weather surface, we also run a winter triples league, when we are joined by bowlers from nearby Congresbury Bowling Club.
Wrington Bowling club has an all-weather surface allowing us to play throughout the seasons. We have an enthusiastic and active membership and are always keen to welcome new people to our sport, regardless of age or experience. We have twice weekly training sessions – overseen by our own qualified coach, allowing us to ensure that new players can learn about the sport and develop their skills. If you would like to attend such sessions please contact our Coach Fred Cowgill on 01934 861221.
President ~ Roger Smeed
Chairman ~ Roy Clements
Secretary ~ Andrew Tandy
Treasurer ~ John Gower
Men's Captain ~ Fred Thomas
Ladies Coordinator ~ Linda Johnson
Communications & Website ~ Wendy & Andrew Tandy
Membership Secretary ~ Malcolm Parsons
Safeguarding Officer ~ Andrew Tandy
Maintenance ~ Peter Bourrel
Catering ~ Karen Upsdale
Cleaning ~ Tony Jefferies
Are you interested in getting involved in a fun and healthy sport?  We welcome members of any age, including junior members.  Whether you are new to bowls or an experienced bowler looking to join a new club, we are able to offer all of the support you need including free training sessions with our qualified coach.
Why not come to one of our regular open days or just contact the club and arrange a session with one of our regular bowlers.
If you wish to know more about joining the club, wish to try the sport or organise a session with our club coach please contact Fred Cowgill (Club Coach) on 01934 861221or Andrew or Wendy Tandy on 01934 863684.
:https://wringtonbowlingclub.org/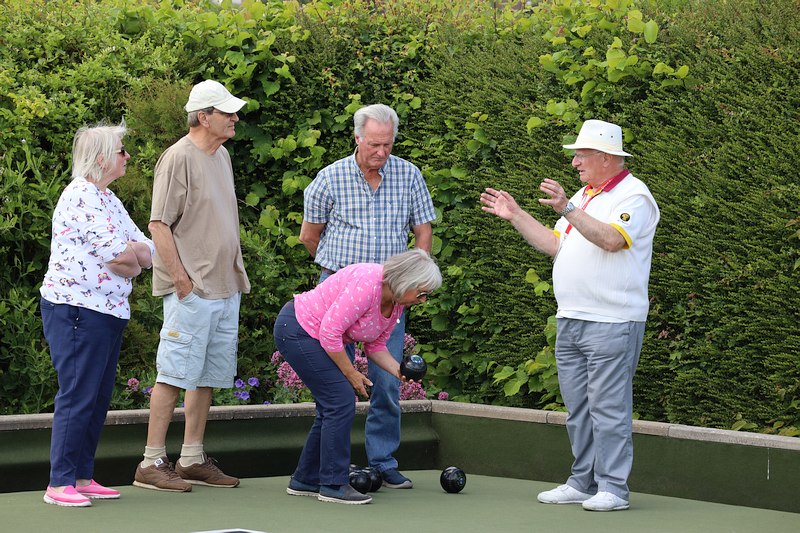 June

Club

Venue

Time

Rinks

Team

Fixture

Result

Score

Wed 1st    

Severn Vale                      

A

2.30

4

MXD

Friendly

 

 

Wed 8th    

Keynsham

H

2.30

3

L

League

Cancelled

 

Sat 11th    

Portishead RBL C            

H

2.30

3

M

League

W

80 – 60

Sun 12th   

Yatton

H

2.30

4

MXD

Friendly

Cancelled

 

Thu 16th   

Victoria

H

2.30

3

L

League

W – Def

12pts

Sat 18th    

Club Pairs Comp

 

 

 

 

Club

 

 

Sat 25th    

Bristol C

A

2.30

3

M

League

W – Def

12pts

Sun 26th   

Wedmore

A

2.30

4

MXD

Friendly

 

 

Thu 30th   

Fosseway

H

2.30

3

L

Club

 

 

 

July

Club

Venue

Time

Rinks

Team

Fixture

Result

Score

Sat 2nd

Christine Bowden Cup

 

 

 

 

Club

 

 

Tue 5th

Yatton

A

6.30

4

M

Turnbull Cup

 

 

Sat 9th

Victoria C

H

2.30

3

M

League

 

 

Sun 10th

President's Cup

 

 

 

 

Club

 

 

Thu 14th

Fosseway

A

2.30

3

L

League

 

 

Fri 15th

Cleve Prom/Long Ashton

A

 

3

L

Fear Cup

 

 

Sat 16th

Ashcombe D

A

2.30

3

M

League

 

 

Mon 18th

Victoria

A

2.30

3

L

League

 

 

Sat 23rd

Club Triples

 

 

 

 

Club

 

 

Wed 27th

Imperial

A

2.30

4

MXD

Friendly

 

 

Sat 30th

Ashcombe C

H

2.30

3

M

League

 

 

Sun 31st

Mark Moor

A

2.30

4

MXD

Friendly

 

 

August

Club

Venue

Time

Rinks

Team

Fixture

Result

Score

Wed 3rd  

Winscombe

A

2.30

4

MXD

Friendly

 

 

Sat 6th

Chew Stoke B

A

2.30

3

M

League

 

 

Wed 10th   

St Annes

A

2.30

4

MXD

Friendly

 

 

Sat 13th  

Champions Shield

 

 

 

 

Club

 

 

Sun 14th    

Portishead RBL

H

2.30

3

MXD

Friendly

 

 

Mon 15th

Wedmore

H

2.30

3

L

League

 

 

Wed 17th     

Imperial

H

2.30

4

MXD

Friendly

 

 

Sat 20th

Wedmore C

H

2.30

3

M

League

 

 

Sun 21st   

Finals Weekend

 

 

 

 

Club

 

 

Mon 22nd    

Finals Weekend

 

 

 

 

Club

 

 

Wed 31st      

Victoria Park Bristol

A

2.30

4

MXD

Friendly

 

 

September

Club

Venue

Time

Rinks

Team

Fixture

Result

Score

Sat 3rd  

Clevedon Prom C

H

2.30

3

M

League

 

 

Sun 4th       

Yatton

A

2.30

4

MXD

Friendly

 

 

Thu 8th        

West Backwell

A

2.30

4

MXD

Friendly

 

 

Wed 14th 

Congresbury

H

2.30

3

L

Norris Bryan Cup

 

 

Sat 17th         

St Annes

H

2.30

5

MXD

Friendly

 

 

Tue 20th    

Summer Triples Ends

 

 

 

 

Club

 

 

Wed 21st     

Winter Triples Starts

 

 

 

 

Club